American Tactical Imports
American Tactical Imports Lower Receivers for Sale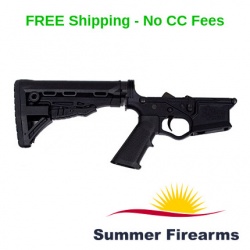 ATI Omni Hybrid Complete Lower Receiver 6 Position Stock w/ 2 Amend2 Mags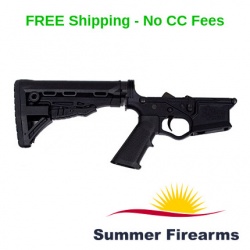 ATI Omni Hybrid Complete Lower Receiver 6 Position Stock w/ 2 Amend2 Mags (ATIGLOW201)
ATI Omni Hybrid Complete Lower Receiver 6 Position Stock w/ 2 Amend2 Mags
The Omni Hybrid lower features a patented hammer and trigger pin retainment system, preventing movement from the hammer and trigger pin during firing. The Omni Hybrid also featured our patented over-molded metal insert, which reinforces the buffer tube housing and rear takedown pin. This allows for metal-on-metal contact with both the buffer tube as well as the rear takedown pin thus increasing strength and durabillity from recoil and consistent firing.
FREE Shipping - No CC Fees
Lower Receiver
UPC:
813393017032
Manufacturer:
American Tactical Imports
MFG P/N:
ATIGLOW201
Mags
UPC:
686751104015
Manufacturer:
Amend2
MFG P/N:
AME556MOD2BLK30
The Amend2 30 round magazine is a sturdy, reliable 5.56x45 NATO (.223 Remington) AR15/M4/M16 magazine made of advance polymer material. It is a light, durable and excellent alternative to the standard M4/M16 USGI aluminum magazine.
ATI Omni Hybrid Complete Lower Receiver 6 Position Stock w/ 2 Amend2 Mags